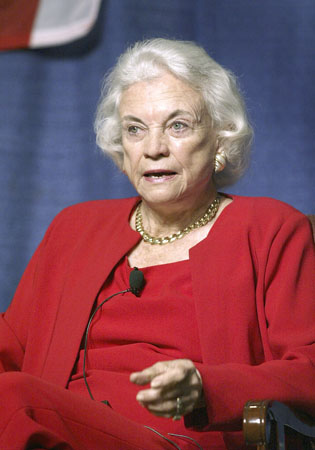 Retired Supreme Court Justice Sandra Day O'Connor, known for urging states to replace the election of judges with a merit selection system, explains why in a new online audio recording.
Justice O'Connor says during a recent session of the Aspen Ideas Festival that "the courtroom, in our country, is supposed to be the one safe place where you can have a fair, independent decision made, by someone who's qualified to make it," according to the audio recording posted by Minnesota Public Radio.
She discusses the landmark Caperton v. Massey ruling of the Supreme Court, involving a legal dispute that included a mining company, and a judge who benefitted from $3 million in spending by the mining company's CEO. "One wonders, when that happens, whether it can be a fair proceeding," Justice O'Connor said about the underlying circumstances of the case.
In Caperton, the Supreme Court said the judge who benefitted from the CEO's largesse could not hear a case involving the coal company. "I think it was probably wise to do it," Justice O'Connor said about the high court's decision.
At the Aspen Ideas Festival session, she was asked questions by Jeffrey Rosen. A Slate article about the discussion was headlined, "Sandra Day O'Connor Worries About SCOTUS's New Tack on Campaign Finance."
No comments