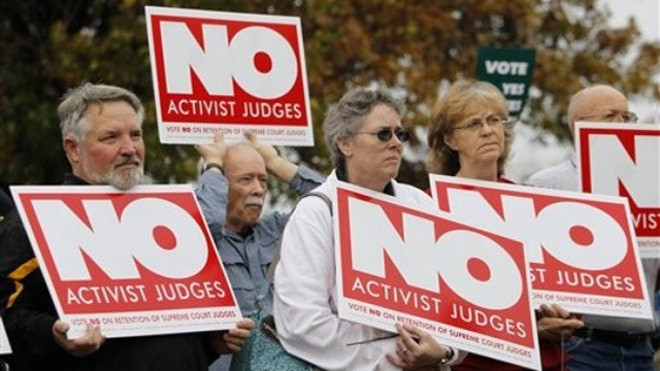 Threats to impeach judges are alive and well in Iowa.
A proposed new Iowa GOP platform states a "demand" that state legislators act to impeach Iowa judges who have ruled to permit same-sex marriages and also that U.S. lawmakers impeach "activist" judges on the federal bench. It calls for appointment of judges who "respect the sanctity of life" and confirmation of only "strict constructionist" judges.
The document highlighted divisions within the state GOP. Last year, Iowa Gov. Terry Branstad, a Republican, said impeaching four state Supreme Court justices would not be an "appropriate" fix to correct the court's controversial ruling that permitted same-sex marriages. Key Iowa House GOP leaders did not support the impeachment effort. Neither did U.S. Sen. Charles Grassley, R-Iowa, approve. In a poll, Iowa Republicans were divided over the impeachment proposal.
This week, Branstad downplayed the proposed platform in remarks to the the Des Moines Register, which posted the document online. "At the end of the day, the platform is a grassroots document as developed by the delegates," he said. "But what's more important, in my mind, is the candidates that really articulate their stand on the issues. That's really the important thing and that's what goes to the voters."
"Most people don't read the party platforms," he added, "and you can take either party platform and you find that parties tend to be controlled by the more ardent left or right and that doesn't really reflect where the candidates are going to come down."
In 2010, voters swept three state Supreme Court justices off the bench in retention (up-or-down) elections. The three were part of a unanimous court opinion that allowed same-sex marriage in Iowa, and their ouster followed a campaign funded heavily by out-of-state groups. Subsequent efforts in the legislature to impeach the remaining justices faltered.
The proposed platform includes these proposals:
"We demand that the Iowa Legislature take action to impeach, and to remove from office, judges for legislating from the bench bypassing the Iowa Constitution as in the recent creation of a 'so-called right to homosexual marriage.'"
"We demand that the U. S. House of Representatives exercise its constitutional responsibility and duty to impeach activist judges (starting with the 9th Circuit Court) who legislate from the bench. We refuse to surrender to judicial tyranny."
"We demand the nomination and confirmation of only 'strict constructionist' judges who will interpret the Constitution according to original intent and not 'legislate' from the bench."
"We advocate the appointment of judges who respect the sanctity of life and who understand their limited role in government."
"We support having the Iowa Supreme Court Justices Nominated by the Governor and confirmed by the Senate, eliminating the current Nominating Commission, but not the retention votes."
In 2011,  Justice at Stake Executive Director Bert Brandenburg criticized the impeachment efforts in Iowa. In a Washington Post opinion commentary, he wrote, "Impeachments of judges were not designed as a tool for this kind of political disagreement, and the reason is essential to our democracy. If courts can't make tough calls, they won't be able to uphold the Constitution and protect our rights."
No comments
Tags: Iowa